Damer B växer i Div. 1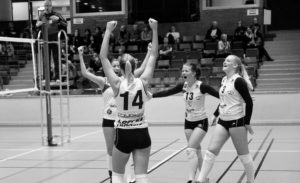 Nu har serien och laget kommit igång ordentligt med totalt fyra spelade matcher. Flera av tjejerna är bland de yngsta i serien med många -01or, men det ser man inte några spår av på planen. Det har redan blivit ett tight lag där man jobbar för varandra vilket ger utdelning i senaste matcherna.
Tränare i år är Charlotte Harris och här är hennes kommentarer på helgens två matcher: "I'm proud of the team for their overall performance this weekend. In the first 3 sets against IKSU we played fearless volleyball which is exactly what we have been working on all season. We were aggressive behind the service line and relentless in defense. The last 2 sets our level of play was not up to par but IKSU is a good team and I'm proud of the way we fought throughout the match.
We were very happy to go home with a win against Karlstad. We did some good things in the match by mixing up our offensive selection and putting pressure on them behind the service line. Karlstad has a good offense when they are in system but our girls challenged them and forced them out of system for most of the match. We are still working on maintaining a high level of play and changing our definition of success. It's important that we continue to define our success by our level of play and our effort rather than the points on the scoreboard. If we continue to work on this mindset and focus on the process of getting better we are going to do a lot of great things this season."
Matchresultat: SVK-IKSU: 2-3, Karlstad-SVK: 0-3