Damer-B tar en skön hemmavinst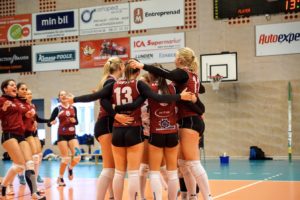 Med ett något decimerat lag ställde man upp i helgen mot Uppsala i Div. 1 och bjöd den trogna hemmapubliken på en riktig nagelbitare! Det blev till slut 3-2 efter att ha jobbat sig tillbaka ifrån 0-2 underläge.
Tränaren Charlotte summerar matchen så här: "Our match with Uppsala was very up and down but we saw a lot of good things from our team. We started off quite slow and had a lot of unforced errors in the first two sets. The third set we finally started playing the kind of volleyball we have been working on all season. We were aggressive behind the service line and played tough, scrappy defense.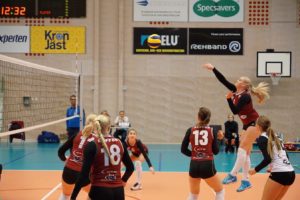 I was proud of the girls for playing fearless volleyball in the third set despite being down 2-0. It was great to carry that momentum into the fourth set and push the match to five. We had too many unforced errors in the last set but despite that we were able to pull out a win thanks to our defensive effort. We talked a lot this week about improving our out of system play by communicating and playing with purpose. The girls set a goal for this match to communicate with purpose and it showed in a lot of our long rallies. Our out of system play was much better than it has been the past few matches. It's always nice as a coach to see the team put into action what we have been working on in practice. We will continue to focus on the process of getting better and let the outcomes be a byproduct of that. During the majority of this game we focused on the process and I'm happy we were able to walk away with the outcome we wanted while also getting better as a team."