The Merry Men of Draget
The Merry Men of Draget came out of the woods of Helenelund to have a joyful day at the Glade of Satelliten. The Merry Men danced and sang in the sun. But suddenly the terrible Northmen of Lule came charging from the hills. They were dark, tall, brutal and silent. The Merry Men did their best to avoid a fight, but before long a battle was raging.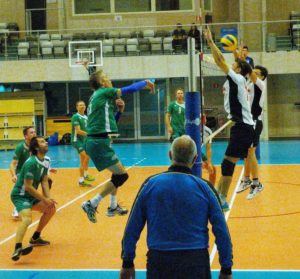 Round One was almost over before it had begun. The Northmen hacked and slashed their way through the Merry Men's unprepared defence line. They were overwhelmed by the brute force of the Northmen. The first Choir Master, Göran Lindgren, broke his thumb and had to forfeit. The toughest of them all, Marcus Wreber, was also injured. In the heat of the battle he was brutally headbutted (a so-called Danish Skull), which resulted in a black eye and a concussion. Marcus carried on despite double vision, but the Merry Men lost anyway, 16-25.
In the second round the Merry Men were taken aback as the Northmen charged. Jonas Andersson tried to organize the defences, but to no avail. The round ended 21-25.
The Merry Men were about to be butchered. In a desperate move they threw in the Elders from the bench. And the tide turned. Suddenly the Merry Men inflicted considerably damage to the tribe from the North. Little John (Johan Fransson) found his strength and the Merry Italian, Massi, was also swinging like in the good old days. The third round went to the south. 25-19.
In the fourth round the dance continued. Tobias Zetterlund came from the outside, Peter Sjölin and Martin Rydh in the middle. It was a joy to watch the Merry Men swarm around the Northmen. Like goblins around giants. It was over in a blink of an eye. 25-22.
It was time to settle the fight. But the Merry Men had lost their magic. All the tricks and dodges failed. No matter what they tried, nothing went their way. 11-15.
The Northmen won fair and square, but the Merry Men from Helenelund still reigns the Kingdom of division two north and remains on the throne for the Christmas and New Year holidays.
 
Brothers in arms – Draget and Luleå
Elm the Elder